Meeting & Conference
You can combine your stay in the city with your business commitments.
For small business meetings you can use the meeting room of SAZ City Life Hotel with a capacity of 15 people. The modern room also offers flexibility making it ideal for business gatherings and company meetings or events.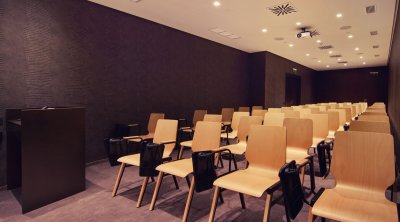 This versatile and functional room can host up to 60 people and there is the possibility of having the seating arrangements changed so as to serve your individual needs.
Both of the rooms boast technologically advanced audiovisual equipment. The hospitable premises of the hotel constitute the ideal place for a variety of events such as celebrations, formal dinners, gatherings, fashion shows, product sampling etc.
The experienced and qualified hotel staff assures you that every event will be appropriately planned and successfully carried out since we offer event management services and broad-spectrum food prepared by the Executive Chef Mr Yianni Stanitsa.