Hotel
SAZ City Life Hotel offers a unique Hoteling experience to visitors who will select it for their stay, meetings, food, drink or coffee.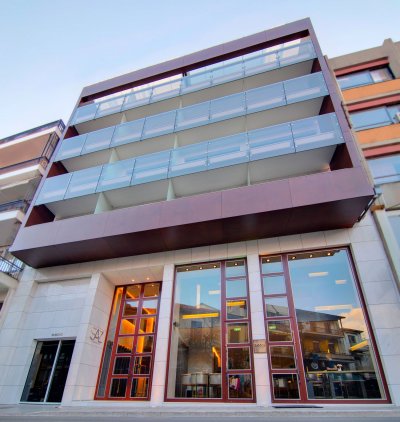 The 10 storey building, with a total area of 3000 square meters, located right in the central square of Ioannina, is designed and constructed with emfasis on high quality and insistence on details and components combatible with aesthetics, philosophy and personal view for hospitality of its owner Leonidas Mosialos.
A hotel that offers all the standards of an ultramodern, newly constructed hotel with an individual approach.
The 23 rooms, with view from not only the city of Ioannina but also the beautiful lake Pamvotis, are decorated with taste, creativity and imagination. Moreover, the hotel is accessible for people with disabilitie  and there is also a pet friendly room.
There is also an underground guarded parking on site, a Meeting and Show Room for your business meetings and a Conference Center with all the modern audiovisual equipment for conferences, seminars and workshops.
On the ground floor of the hotel you can relax and enjoy your meal, coffee and drinks in the cafe-bar-resto ZAMOS, which is decorated with original sketches of the biggest fashion designers in the world.